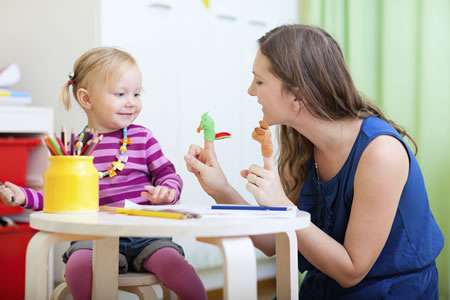 OUR VISION
At SAGE Speech & Learning Associates we strive to build a strong foundation for each child through collaboration with a unique and distinguished team of professionals and specialists. We empower children to reach their potential through evidence-based and effective treatment approaches and strong caregiver training programs.
OUR SPECIALTIES
Therapists at SAGE Speech & Learning are trained in a variety of treatment programs and approaches.  We value a strong continuing education approach, and always strive to provide developmentally appropriate and research proved programs for our clients!
Therapists at SAGE Speech & Learning are trained in a variety of methods and therapeutic techniques for the treatment of speech and language challenges, fine and gross motor difficulties, and sensory integration dysfunction. SAGE Speech maintains a strong commitment to continuing education, and we work hard to stay abreast of new and emerging approaches to helping children become their very best!
A few of the techniques and treatments our staff specialize in:
Beckman Oral/Motor Intervention
PROMPT and Kaufman Speech to Language Protocol for Apraxia
Fast ForWord Language and Reading
Lindamood Bell Programs
PECS & low-tech AAC
Speech Boot Camps
Auditory Processing Intervention & Management
OUR APPROACH
Speech Therapy Tools
We provide families with all the tools they need to help children achieve their greatest potential. We develop personalized and comprehensive plans customized for the specific needs of each child we work with. We train parents, teachers, and other key communicators to build on the speech language intervention consistently in a child's daily interactions leading to quick, effortless, and long lasting gains. We target efficiency, consistency, and positive educational experiences. 
A Complete Team
We believe in a team-based approach and work hard to create a support team around each client. We partner with pediatricians, occupational therapists, psychologists, and more to ensure that each child gets the most effective therapy for them and that parents and families as a whole get the support they need. 
In Home, At School, or at Our Office
At Sage Speech, we come to you! Our therapists work with children all over the Atlanta metro area — Sandy Springs, Dunwoody, Brookhaven, Buckhead, Decatur, Smyrna/Vinings, East Cobb, Roswell — typically meet either in the child's home or school. It's easier for you because we do the traveling and easier for your child because it's an environment they know and are comfortable in. If you prefer to come to us, however, we do have an office location and are happy to schedule your appointment there.