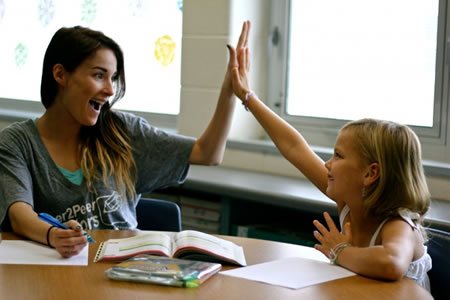 Tutoring the SAGE Speech & Learning Way
Many of the tutors at SAGE Speech & Learning are certified speech-language pathologists, holding both certification from the American Speech-Language-Hearing Association (ASHA) and state licensing.  They maintain professional credentials in continuing education annually and are specifically trained to implement and interpret standardized assessment tools.  Our SLP Tutors have undergone additional training in the areas of reading & literacy, spelling, and/or verbal & written language expression.
SLP's will provide tutoring in academic subject areas, as well as across subject areas, implementing organizational and learning techniques that can span a lifetime.
If needed, an SLP can provide additional standardized testing in literacy and language learning skills, including a complete assessment of verbal and written language, phonological awareness, reading, spelling and writing.  Tutoring will capitalize on your child's strengths and boost their areas of weakness, supporting their learning across subject areas.
How are Tutoring and Speech Therapy different?
When a child enrolls in speech-language therapy, a comprehensive evaluation is conducted, with a written report, treatment plan and annual progress reporting and testing.  Speech-language goals may or may not be tied to direct academic subject matter.
When a child enrolls in tutoring with an SLP, standardized testing may be completed, but is not always necessary.  A comprehensive family and student interview is conducted to pinpoint learning challenges, past or current diagnoses, and specific subject matter or areas that a student is struggling with.  In a tutoring capacity, an SLP will not generally provide annual testing and reporting.
Tutoring can be provided in home, school, clinic or via teletherapy! 
At what age might my child need tutoring?
The SAGE Tutoring team is unique! Since our tutoring team is made up of SLPs who have extensive experience and knowledge of early language and literacy development, we work with children as young as 4, or who are in Pre-K.  Our SAGE Tutoring team helps each child to learn along with their preschool class and ensure they are ready for Kindergarten and beyond! 
To enroll in tutoring services, please fill out our Tutoring Registration Form below.....